Gunz Hacks! HackersCoolios Made this So do not thank me At all well here it
Includes :
* Built-in all system's
* Super+, Super, SuperSimple, Simple, FairPlay.
* Difference between [Super+ / Super] Super+ has Bullet-Kit Instead of full healing Ap-Kits.
* All the systems have 1-16 Players choosing option.
* World items and medics are adjusted according to which type you choose.
* All-in-one Smart questing systems.[Work's with non-hacking people].
* Infinite Kill score for Death Match or Berserk[Doesnt Work with TDM].
* Ammo Pick ups/ Bullet-kits restore all the ammo in your gun.
* Curse Filter Removed.[except for the FairPlay system].
* NEW Semi god mode for quest!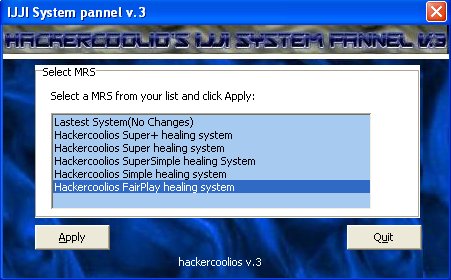 How to Use :
1. Extract the panel/Program in a folder on your desktop.
2. Double Click the panel and choose the System that you would prefer.
3. Click Apply and Play your game.
Mirror 1
Rapid Share:
rapidshare.com IJJI_Auto_Quest_maps.rar.html
Mirror2
Uploaded :
http://uploaded.to/?id=b1m3qj
How to use Auto Quest Maps
1. Extract the folder called "Quest" on your dekstop.
2. Right click "Copy" on The Quest Folder.
3. Go to "My Computer".
4. Double-Click Local Disk C.
5. Double-Click ijji (FOLDER)
6. Double-Click ENGLISH (FOLDER)
7. Double-Click Gunz >> (FOLDER)
8. Right Click and "Paste" the Quest(FOLDER)
9. Now A screen Will Pop-up.
10. Click Yes/Yes-to-all.
11. You have Successfully Pasted them